DIVISIONAL GUARD AGAIN
We finally wound up at a town, I think called St. Jean Robach, where the division CP was set up. Eight of us crowded into a little school room, found some beds, mattresses and a stove -- what more could we want? That night we had our first hot meal and what should it be but chicken a la king. The next morning we knew we had made a mistake....all of us had the "trots" and I mean bad! Cramps hit us every few minutes and we never had time to make the latrine behind the building -- we made for the attic on the third floor! What a mess. Some of us were really sick but the general must be guarded and we were short-handed. So we stood guard day and night, four hours off duty, two on, and spent at least half of our time relieving the cramps.
But life was good, all told, and we hoped our luck would last. We vied with each other for the best posts (the best ones were, of course, the fartherest from the general's or colonel's van) and Black and I for several days and nights had a cozy little post on the outskirts of the camp. We kept a watchful eye for the officer of the day (to hell with the Krauts by then....we were veterans!) and talked by the hours of home. We hashed over old times, one story following another in rapid succession, and discussed our plans for the future.
One officer in particular was always giving us trouble. He insisted on snooping and would never approach our post the same way twice. He would try to confuse us on pass words, mumbling his answer to the challenge, hoping we would think he gave the right word when he hadn't....then there was hell to pay. But, since we weren't supposed to know who he was until we recognized him, we soon learned to make him repeat the countersign until we could understand it, acting mad enough to shoot any second. He soon changed his tactics! Black and I wished fervently that some time when we called "Halt" he would accidentally slip and fall in the snow -- then we would let loose a few rounds of BAR over his head, saying we thought he was making a break for it.
---
From Ed DeFoe, December 18, 1991:

Ref: Pages 22 & 23 MUD & GUTS

I remember that hot meal. I had guard duty...again. I felt I was the only guy in the entire army with guard duty all the time. Guys were coming out of the building with their pants down and the last thing they knew was the lousey password (or care!). I asked the first couple of guys and then I just let them come out and crap in the yard.... but all in all, just to have a warm place to sack-in was reward in itself. I did hear somebody threatened that "Looey" but didn't know it was you....good job!

Didn't we spend Christmas there? Somebody got a sort of plastic tree, sort of a fold-up deal, from home. Another GI asked me if I knew where there was some condensed milk. I did, and he said he knew how to make ice cream with snow and milk but I guess I fell asleep before he finished it...or maybe it didn't work out.
---
I'm in this picture somewhere, taken in Feb., 1945, at Busweiler in Alsace - - From Stars and Stripes -AJC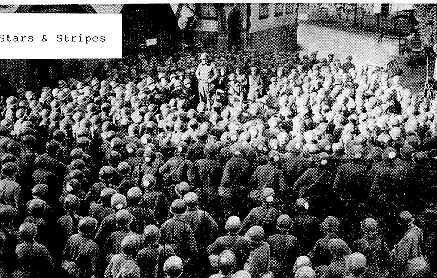 Heart to heart talk by Maj. Gen. Anthony C. McAuliffe, commanding general of the 103rd Infantry Division, to a battalion of his doughboys was given at an Alsatian village where the outfit was resting after helping the 103rd smash back the German sallient at Schillersdorf in the enemy's bid to retake Alsace.
---
Title Page Previous Page Next Page
This page maintained by Bruce Clayton.
Copyright © 2008 by Bruce D. Clayton, All rights reserved.