PHOTOS TAKEN IN 1967
In the Spring of 1967, we (Art, Lois, Bruce and Rich) flew to Paris, rented a German VW Bug, and retraced much of Art's combat area of 1944-45 along the French-German Border. These and following photographs were taken at that time.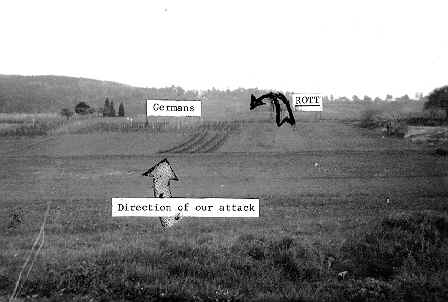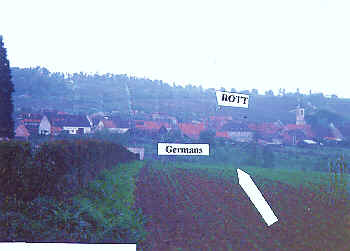 Here we got our first taste of combat as we approached the little town of Rott. The Germans started firing at us, probably from the cemetery (see trees in upper left) and we sought shelter in the shallow ditch across center of picture.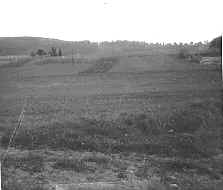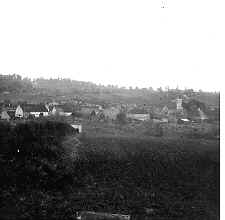 Ordered to "fix bayonets," we charged up the ridge and the Germans pulled back into town. We spent the night in shallow, muddy holes, dodging enemy shells. The edge of the cemetery is in left foreground of picture. A sniper hidden here took his toll as we moved out to attack the town at dawn.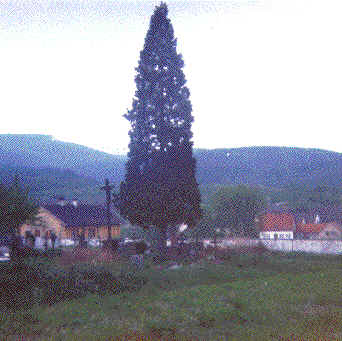 Looking across the width of the old cemetery, I believe the house on the left is the one where part of our group sought cover when the Germans pinned us down on the slope. House on right is the first one we entered on edge of town.
---
From Ed DeFoe, December 18, 1991

Ref: Page 13 MUD & GUTS

I think it was Fererra's or Damanti's rain coat (on his belt) that was full of holes. Fererra had a brother who was in the Air Corps and he used to say, "If you guys think this is rough, you should be in the Air Corps!" They really had it tough -- 30 missions and they got to go home!

I wish I could remember the guy's name who got circumcised (or even how to spell it!) but (the bullet) just took off the loose skin. He gave me his sort of like a Scout knife. He sez, "I'm going home or at least to a hospital." However, I did see him again after the war and asked him if he wanted it back....and you know, Art, I still have it in my tool box -- to me that was my introduction to the real war.......

It was not until years later, in 1993, that I learned from declassified Regimental reports that our Company B lost 8 men killed in action, 19 wounded, and one MIA in our first engagement at Rott on December 15 1944. ajc
---
Title Page Previous Page Next Page
This page maintained by Bruce Clayton.
Copyright © 2008 by Bruce D. Clayton, All rights reserved.