Hanshi Bruce D. Clayton
Bruce D. Clayton, Ph.D., a black belt in the eighth degree, is a scientist, writer, and teacher. He is the author of over a dozen books on survival and self-defense, including the revolutionary Shotokan's Secret from Black Belt Books.
Clayton was awarded the title of "Hanshi" by Hanshi Vincent A. Cruz on February 23, 2015.
This bio is based on the "About the Author" section of Shotokan's Secret, Second Edition.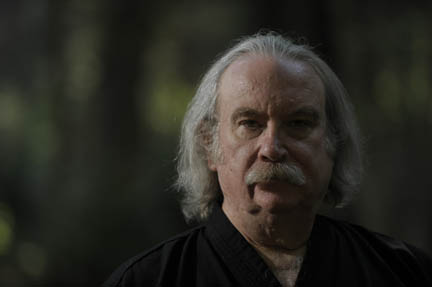 Hanshi Bruce Clayton, "the Witchdoctor," at the San Ten Sierra Camp 2009. Photo by Jose Fernandez.
Bruce Clayton was identified as a "polymath" at the age of seven by psychologists at the Galton Institute of Beverly Hills, California. A polymath is a person with extraordinarily broad and comprehensive interests, and who can integrate those interests creatively into a single view. He was studied by these psychologists throughout grade school and high school.
A natural writer, Clayton suffered through high-school English classes. One day he was assigned to write a poem, so he impatiently dashed off a page of superficial verse that pretended to satisfy the assignment. This throw-away poem impressed his teacher, who entered it in a contest. The poem won the 1967 National Council of Teachers of English Acheivement Award for creative writing. Clayton received a letter of congratulations from Ronald Reagan and scholarship offers from 34 colleges. These were scholarships to study poetry, of course, which he hated.
From this Clayton learned that most people can't distinguish between form and substance. He discarded the scholarship letters and enrolled as an honors student in zoology and botany at UCLA. He washed dishes in eight-hour shifts at Los Angeles International Airport to earn tuition money.
During his sophomore year, 1969, Clayton was approached to be the co-producer of a summer-stock playhouse in Monterey, California. His contribution was to adapt John Steinbeck's novels to the stage. He spent the summer in Monterrey studying "bouncer" combative skills in the morning, skin diving with otters in the afternoon, and performing on stage in the evening.
Back at college, Clayton became a protégé of Briggs Hunt, a scrappy Olympic wrestling coach who taught U.S. Army Ranger combatives under the label "self-defense." Hunt had used his combative skills against Japanese soldiers on Pacific islands in World War II. Clayton took Hunt's down-and-dirty class six times, breaking his arm only once. Clayton received extensive personal instruction from Hunt while ghost-writing a self-defense textbook for him.
During this period Clayton was also introduced to Kodokan judo, where he broke his nose only once. Between classes, he learned target shooting as a guest of the Marine ROTC pistol team. After school he studied SCUBA diving and flying. In his spare time he served as a researcher and actor for the Encyclopedia Brittannica Educational Films unit in Hollywood, and as a staff botanist in the Huntington Gardens in San Marino.
After college, Clayton spent a year studying shotokan karate with Sensei Ken Osborne in Los Angeles (getting his glasses shattered only once). He recognized many of Hunt's combative measures in the heian katas, and was astonished to find that shotokan masters did not know these applications. Once again, the specter of form without substance caught his attention. The emptiness of the shotokan kata bothered Clayton for decades.
Clayton spent an academic quarter at Humbolt State University in Arcata, California, where he studied wild edible plants, forest entomology, and archery. He ripped the skin off the pads of three fingers during an archery tournament there, but grimly completed the contest and won first place, shooting bloody arrows into the heart of the target.
Clayton spent four years in graduate school in Montana, on his hands and knees counting beetle eggs in the snow. In the evenings he worked out with the Big Sky Taekwondo Federation (instructor Larry Faust), breaking his hand only once. During this period, Clayton won first-place trophies in both kata and kumite in the 7th Annual Big Sky Championships. He also received an award for community service for a seminar he gave on the biological effects of nuclear war. For a summer job, Clayton published two papers on forest-fire ecology for the USDA Northern Forest Fire Laboratory.
While in graduate school, Clayton began writing the four-volume Black Medicine series from Paladin Press, using the pen name "Mashiro." These landmark self-defense books explored vital points, combative measures, and twelve families of expedient weapons from a self-defense perspective. The Russian translation of the Black Medicine series is now a hot seller in former Soviet-occupied countries.
After receiving his Ph.D. in plant population ecology in 1978, Clayton left taekwondo and eventually returned to traditional karate. He was fortunate to be able to study under Hanshi Vincent Cruz (10th degree) of Madera, California. Cruz was an Air Force combatives instructor who holds six black belts, all from Japan. He was a life-long disciple of shotokan master Hidetaka Nishiyama, and is the founder of the International San Ten Karate Association (ISKA).
Kyoshi Clayton demonstrating vital point technique at the 2002 Sierra Camp.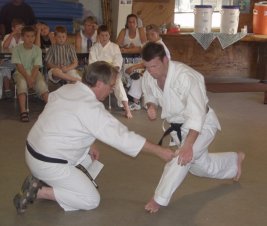 Clayton is ranked eighth dan in traditional karate by ISKA; sixth dan by the International Karate Associations International (U-KAI); and fourth dan in San Ten Jujutsu.
San Ten Jujutsu specializes in the jujutsu techniques that compliment the shotokan karate katas, and was founded by Soke Justin Butler of Denver, Colorado. Butler was trained by Hanshi Dennis Palumbo, yet another Air Force combatives instructor with belts in karate and jujutsu from Japan. Palumbo was a kaiden master of hakkoryu jujutsu, and the author of three books on this subject with Paladin Press.
Over the years, the San Ten Black Dragon Society has honored Clayton with the titles of Renshi, Kyoshi and Shihan. He is a charter member of the North American Shihankai. Master Cruz referred to him affectionately as "the Witchdoctor."
On February 23, 2015, Master Cruz elevated Clayton to the title of "Hanshi" after a twenty-year apprenticeship. This is the highest honor a living person can achieve in the martial arts.
Clayton has taken rifle and pistol combat training at the American Pistol Institute (API) in Paulden, Arizona, under the eye of the legendary Col. Jeff Cooper. He has brown-belt status in Okinawan kobudo under shito-ryu master Fumio Demura.
Clayton is also a well-known survival expert, author of Life After Doomsday, Fallout Survival, and Thinking About Survival; and coauthor of Urban Alert. He is a state-certified volunteer firefighter, radiological-defense instructor, disaster-shelter manager, and hazardous-materials planner. He has camped out in the Sierras in the winter using Native American survival skills under the supervision of survival expert Ron Hood. In 1984 he received a Citation from the Governor of California, George Deukmajian, for his work in "educating the public about the importance of emergency preparation." His most recent survival book is Life After Terrorism from Paladin Press (2002).
He has been interviewed by several national television programs, including The CBS Evening News, The Tomorrow Show, Today, and 60 Minutes, and has appeared on many local radio programs in the United States, Great Britain, Canada and Australia. Clayton was interviewed by Shihan Gary Simpson recently for Australia's BLITZ Magazine.
Clayton lives with his family near Yosemite National Park in California. He thinks that commercial television and radio are a waste of heartbeats, and never listens to either. As a result, he has had the time to read over 4000 books. After 50 years of driving, he has never had a traffic ticket.
Karate and jujutsu may have saved Clayton's life on two occasions. In one instance, Clayton was changing a light bulb in the garage when the ladder collapsed and threw him headlong on the floor. Other people falling from ladders have broken bones or have even been killed. Clayton crashed into the concrete in the perfect side-fall position from jujutsu, and got up unhurt.
On another occasion, Clayton helped a rancher medicate a bull that had an abscessed ear. Clayton was herding the bull up a narrow loading chute when the animal suddenly stood up on its hind legs, pivoted around, put its head down, and charged. Trapped in the chute with half a ton of charging beef, Clayton jumped straight up in the air and let the bull pass by beneath.
Martial arts training can save you in the most unexpected ways.
There have also been occasions when the martial arts played a more traditional role in saving the day. Two involved confrontations with teenage gangs, and the third was an encounter with a mugger at an all-night self-service gas station. In all three events, the aggressors lost their nerve and fled after exchanging a few quiet words with the nominated victim.
It is a tenet of Shotokan that a master can win without fighting.
So what is a "polymath?" In this case it is a person who casually and quietly does extradinary things.
For the record, Bruce Clayton has never been a member of any political party, any religious organization, or any group that is based on animosity, intolerance, or cruelty. He is equally at home with friends from every walk of life, from every race, creed, and orientation, and from every corner of the world. He believes that our shared life experiences make us all brothers, while our differences just make us more interesting.
He is also remarkably modest.
Clayton's website is www.ShotokansSecret.com.
Call 209-742-5030 Ask for Hanshi Clayton.